Meet Our Broken Arrow Dentist & Team
Our friendly, skilled team works hard to ensure you have a great experience while you're with us. We're passionate about forming great relationships with our patients built on trust and understanding. From the front desk to the treatment room, you can rest easy knowing that you're in good hands!
Contact Us Today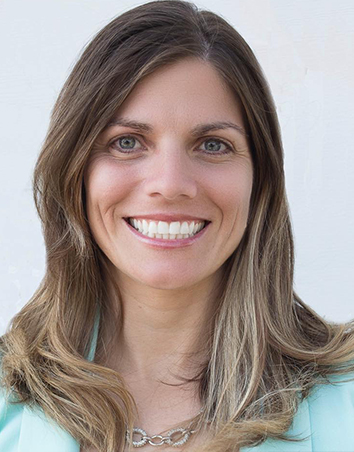 Dr. Angela Rhodes
I became a dentist because I wanted to improve people's lives by giving them beautiful, confident smiles. I love that dentistry requires a blend of science and art, and that each patient has unique dental needs which affords me the opportunity to provide each patient with the most advanced dental care they deserve.
I grew up in Oklahoma and earned my Doctorate of Dental Surgery at the University of Oklahoma after earning a Bachelor of Science from Oklahoma State University in Biological Science. I am excited for the opportunity to serve Broken Arrow and the surrounding communities with my team at Inspire Dental. I am a member of the American Dental Association, the Oklahoma Dental Association, and the Tulsa County Dental Society.
My husband and I have six children. We enjoy spending time with friends and family, as well as staying active by training for Ironman Competitions.
---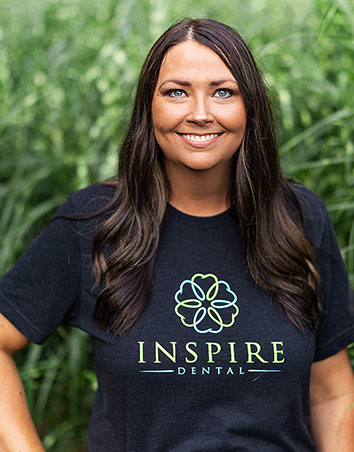 Ashleigh
Office Manager
I will be the voice on the phone and the first person you see when you step into Inspire Dental. I have been in dentistry for 15 years, with most of my career being in orthodontics. When I moved back home to Oklahoma from Arizona in December 2021, I fell in love with Dr. Rhodes and her office and took the opportunity to be back in general dentistry. I could not be happier being back in general dentistry and with Inspire Dental. This is the first time in my career that I have not only enjoyed coming to work but truly love working with my coworkers and Dr. Rhodes.
In my spare time I foster with Oklahoma Westie Rescue and have three rescue dogs – Benji, Will, and Fitzgerald. We enjoy being outside, especially if there is a body of water nearby!
---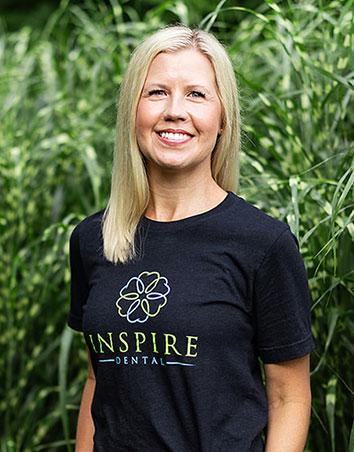 Kara
Registered Dental Hygienist
What I love most about my job as a dental hygienist is the opportunity to build relationships with my patients. Each patient is so different, and hearing their story is always interesting!
I received my Bachelor of Science in Health Promotion from Oklahoma State University and my degree in Dental Hygiene from Tulsa Community College. I knew from the time I was a little girl that I wanted to do something that helped to improve others' lives, and my job lets me do just that!
I was born and raised right here in Broken Arrow. After living in Wichita and Kansas City for several years, my husband and I decided to move back in 2011. It's a great feeling to serve the amazing people of the place that I call home.
My husband and I have been married for 15 years and have two great kids!
---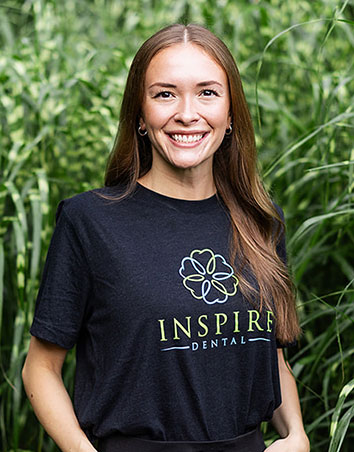 Jessica
Registered Dental Hygienist
As a dental hygienist, I am passionate about providing individualized comprehensive care and educating patients on the best oral hygiene practices. I also enjoy the uniqueness of each patient relationship.
---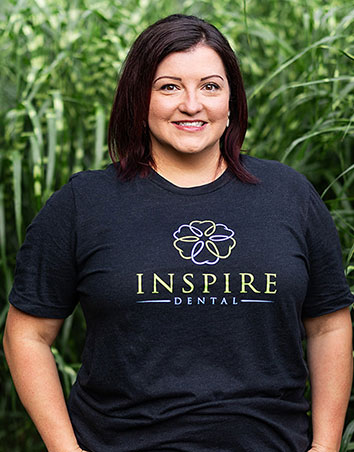 Nicole
Registered Dental Hygienist
I enjoy educating patients on their individual needs while helping them achieve optimal oral health. I have a passion for providing high-quality care and encouraging patients along their dental health journey.
I was born and raised in Wichita, KS, where I attended Wichita State University and graduated with a Bachelor of Science in Dental Hygiene.
When not at work, I enjoy reading, volunteering, and being a mom! Since making Oklahoma our home, my husband and I have enjoyed spending time exploring and creating memories with our family. I love being outdoors and taking my girls on adventures from hiking to petting zoos.
---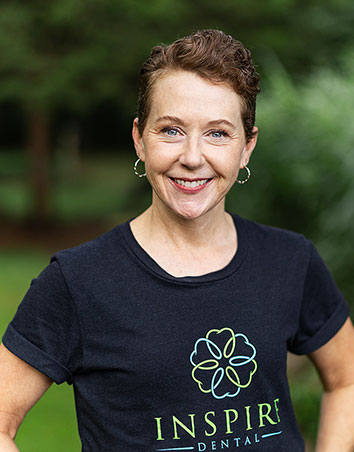 Christina
Dental Assistant
I have been a dental assistant for 28 years. My husband and I moved here from California to provide the best life possible for our daughter. I was very nervous that I would not find the perfect 'Dental Home' like I had in CA. After a few offices, I found Inspire Dental and knew I found my new dental home.
---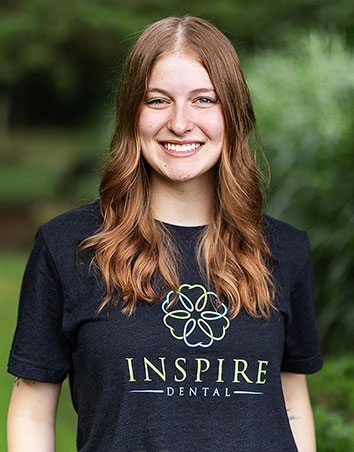 Hanna
Dental Assistant
I started at Inspire Dental as an intern while still in dental assisting school. During school, you intern at several offices, and I ultimately knew Inspire Dental was the perfect office for me. I was so happy when my internship was over, and they offered me a position.
I am die hard KC Chiefs fan and have been known to spend entire appointments discussing the team and previous/upcoming games. When I'm not watching the Chiefs, I enjoy going to the gym and hanging out with friends and family.
---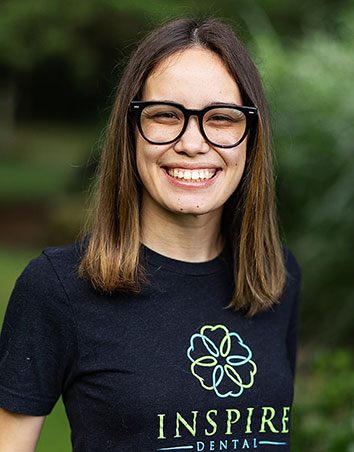 Ashley
Dental Assistant
I have been a dental assistant for a little over a year. I got my Dental Assistant License from Tulsa Technology Center. I was born and raised in Tulsa and don't see myself anywhere else.
In my spare time, my husband and I like to take our dog to the park and on long walks as well as spending quality time with close friends and family.
---

See What Our Patients Have to Say
"Excellent care. Compassionate and friendly staff. I already have my return appointments. Dr. Rhodes has an excellent work ethic and really cares about her patients."
— Glenda G.
"Office is beautiful and staff is welcoming and makes you feel comfortable. Dr. Rhodes was amazing with my son, he said the best dentist he has been too."
— Jaimie B.
"Amazing with children and adults! Highly recommend this place!"
— Kimberly K.
"Dr. Rhodes is fantastic with all ages. I would highly recommend sending anyone to Inspire Dental. She is also very determined to make sure all of her patients are happy with their teeth!"
— Cheyenne
"Great place. They make you feel at home and don't rush you like most places."
— Kolbe B.