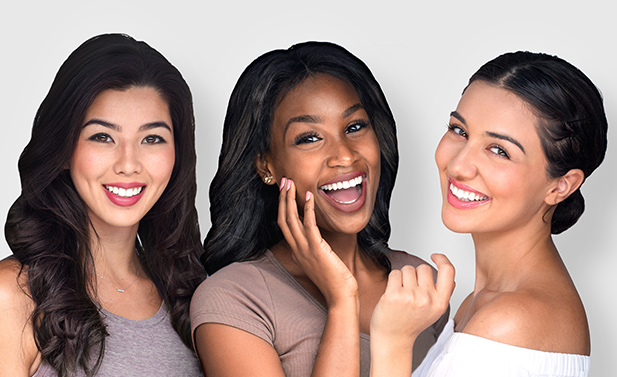 Brighten Your Smile with Cosmetic Teeth Whitening
Your smile is often linked with first impressions, and we want you to be able to make a great one. Teeth whitening is a quick and easy way to take your smile from dull and discolored to bright and pearlescent. At Inspire Dental, we offer one-visit whitening, custom trays, and one-size trays to help you achieve a beautiful smile you'll love.
Contact us
KOR One-Visit Whitening
If you have an event coming up or want to whiten your smile just because, our in-office whitening treatment could be the right option for you. In as little as one hour, you can leave our office with a smile that's up to eight shades lighter. With one-visit whitening, we take care of the entire process for you, and you'll be able to flaunt a brighter smile in no time.
---
KOR Take-Home Whitening Trays
If you've been disappointed with store-bought whitening treatments in the past, our one-size trays can give you beautiful results while still keeping your budget in mind. One-size trays are perfect for our on-the-go patients. Just run by our office, grab the trays and bleaching gel, and complete the treatments whenever and wherever you'd like. We'll even include a set of whitening instructions to help you get the most out of your treatments.
---
Cost of Teeth Whitening
The cost of teeth whitening depends on a variety of factors including which treatment you choose, your oral health, the severity of tooth discoloration, and more. When you visit our office for a whitening consultation, our team will help you choose a treatment that's right for you.

See What Our Patients Have to Say
"Excellent care. Compassionate and friendly staff. I already have my return appointments. Dr. Rhodes has an excellent work ethic and really cares about her patients."
— Glenda G.
"Office is beautiful and staff is welcoming and makes you feel comfortable. Dr. Rhodes was amazing with my son, he said the best dentist he has been too."
— Jaimie B.
"Amazing with children and adults! Highly recommend this place!"
— Kimberly K.
"Dr. Rhodes is fantastic with all ages. I would highly recommend sending anyone to Inspire Dental. She is also very determined to make sure all of her patients are happy with their teeth!"
— Cheyenne
"Great place. They make you feel at home and don't rush you like most places."
— Kolbe B.