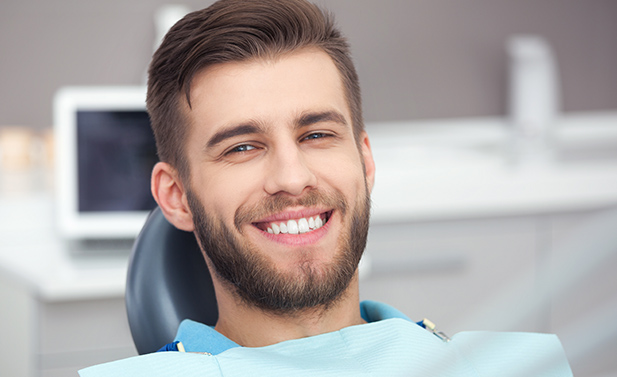 Root Canal Therapy in Broken Arrow, OK
We understand that root canals can seem intimidating. However, they're a common procedure that's used to relieve tooth pain and preserve your natural tooth. At Inspire Dental, we can perform gentle root canal therapy, and get you back to smiling in no time.
Contact us
The Root Canal Procedure
We've learned that if patients have a better understanding of what root canal therapy entails, it helps alleviate some of the fears they may have going into the procedure.
Before we begin, we'll numb the area around the tooth, and administer oral sedation, if necessary, to help you feel more at ease. Once the area is completely numb, we'll make a small hole in the top of your tooth to access and remove the damaged tissue. After we clean out the inside of your tooth, we'll disinfect and seal your root canals to prevent any future infection. Then, we'll use a tooth-colored filling to fill in the small hole and place a dental crown on your tooth for additional protection.
---
Root Canal FAQ
Do root canals hurt?
Despite its bad reputation, root canal therapy is actually nothing to fear. It's meant to reduce any pain or discomfort you feel from a damaged or infected tooth. Root canals can mean the difference between saving or losing a tooth.
What should I expect after my root canal?
After your root canal is complete, we'll send you home with a detailed set of aftercare instructions to ensure you have a smooth recovery. You may experience slight discomfort and sensitivity after your procedure, but the symptoms are temporary and should only last a few days. If necessary, you can take an over-the-counter anti-inflammatory to ease any discomfort you may feel.
How much do root canals cost?
The cost of your root canal depends on a variety of factors. When you visit our office for a consultation, we'll examine your tooth and provide you with an accurate cost estimate based on your unique situation. We'll also go over our financial options, and check with your insurance company to see if your root canal is covered.

See What Our Patients Have to Say
"Excellent care. Compassionate and friendly staff. I already have my return appointments. Dr. Rhodes has an excellent work ethic and really cares about her patients."
— Glenda G.
"Office is beautiful and staff is welcoming and makes you feel comfortable. Dr. Rhodes was amazing with my son, he said the best dentist he has been too."
— Jaimie B.
"Amazing with children and adults! Highly recommend this place!"
— Kimberly K.
"Dr. Rhodes is fantastic with all ages. I would highly recommend sending anyone to Inspire Dental. She is also very determined to make sure all of her patients are happy with their teeth!"
— Cheyenne
"Great place. They make you feel at home and don't rush you like most places."
— Kolbe B.